[Words & Pictures: Pete Hodgson]
Last weekend I was kindly invited round to play in the Duke of Argyll's back garden, there were already some 9,000 people there who had come for the Connect festival 2008, which was pretty awesome.
Sitting patiently on the edge of Loch Fyne, the fairy tale Inveraray Castle solemnly watched over the enthusiastic hoards, who descended on this year's Connect festival to make mud, merriment and leave some miscellaneous camping paraphernalia for the Duke. In its second year, the gathering seems to have doubled in size since its conception, a trend which the organisers will presumably seek to emulate in the future, (although improved drainage and durable paths are necessities). The festival is held in the castle grounds surrounded by splendid mature woodland in Scotland's dramatic coast, with the nearest civilisation of Inveraray town a few miles away (which seems quite happy with the lucrative incursion).
The festival was very proud of its low impact eco-credentials…
very proud. In fact the site was festooned with large signs to inform us… I hope they were recycled.
However, we can forgive this environy (Do you see what I did there?), because there were some things that this festival did outstandingly, most notably the food. In addition to the typical trailers there was an amazing selection of locally sourced treats, which were understandably expensive but truly superb. The venison burgers, carpaccio of beef and steamed mussels were just a few of the finest, and for £1.50 a pop (50p annual increase) you could have an oyster from the loch, which were mind blowing.
When you have a few oysters for breakfast it seems appropriate to wash them down with a glass of champagne and that crazy dream could become a reality… the champagne bar even had clay pidgins for ashtrays. Obviously, there's some normal bars at festival prices (£3.50 pint) or the Kopparberg tree which provided some refreshing ciders (pears can make cider too, who knew?) and hosted a few acoustic sets, plus individual tents purveyed some local ales and some exceptional whiskeys. There was even a spa tent in case you think rehab is a more sensible choice, and a Speakeasy Cafe which hosted some decent (but unoriginal) comedy performances from the likes of Phil Kay. Additionally, there were various impromptu acts playing with fire or energetically beating out some polished percussion.
It was of course a music festival, and attracted a decent line-up for it's size with mainstream headliners like Franz Ferdinand who were obviously well received, but I tend to enjoy smaller, more atmospheric live music (hence my attraction to small festivals). That said, the elements and environment did conspire to produce some excellent main stage performances.
Saturday night saw Bloc Party play a masterful set, conducting the effervescent assembly with a playful confidence ''I didn't think I'd have to ask a Scottish crowd to go crazy twice!'' pointed out frontman Kele Okereke. With a refreshing saline breeze drifting in, the visually rich set reached a crescendo with a light show which illuminated the gentle drizzle of rain, leaving the night sky bejewelled with a myriad of phosphorescent gems…
Unicron was more amazed than most (Photo by Phoebe Webber)…
Alison Goldfrapp's spontaneous combustion was quite exciting…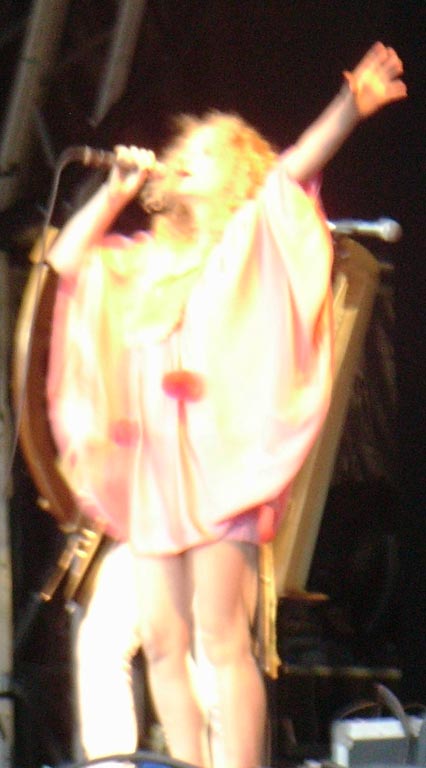 Oddly there was hardly anyone there for the performance of the festival by adolescent four piece Late of the Pier who belted out bassy synth pop with the energy and insouciance of youth but timing of seasoned professionals.
These guys (Late of the Pier) have songwriting talent way beyond their years and are definitely destined for greatness. I also enjoyed some nostalgia in the 'Unknown Pleasures' tent which welcomed Philadelphia based hiphop legends The Roots who shook the tent with their jazzy, low frequency beats and exemplary lyrical prowess.
The tent also welcomed Los Angeles based weirdos Sparks, who opened eyes and raised eyebrows in equal measure.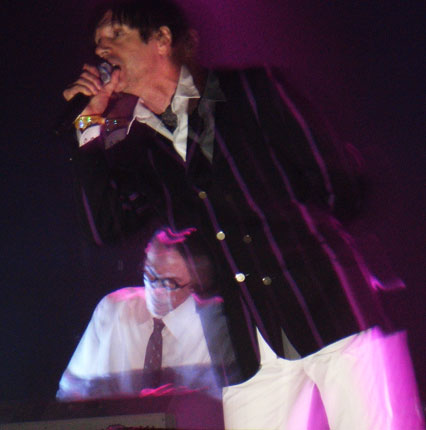 Also in fine form was ever popular beatboxer Darren Beardyman Foreman, who is a particularly nice guy with a great sense of humour which always comes across at his live gigs…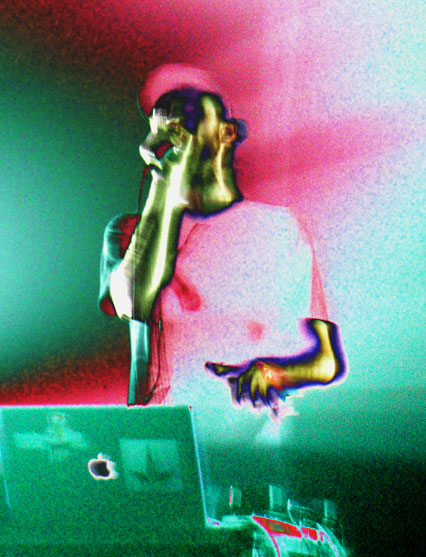 Of course being Scotland the weather is unpredictable… Sunday's perpetual rain was a dirty inconvenience and there's a host of areas where Connect falls short when measured alongside other UK festivals. However, if you the gauge the experience by the unique positive memories it delivers then this year's festival was both a great success and a tough act to follow.